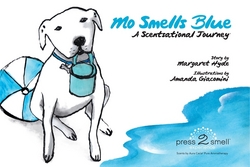 Urbana, IA (Vocus) June 4, 2010
The scents of salt air, sandy beaches, the sea and the feeling of freedom they inspire come alive in the newest installment of the Mo?s Nose children?s book series. The unique picture books include natural scents that are released while reading. Aura Cacia, the leading provider of aromatherapy products in the U.S. has teamed up with the creators of Mo?s Nose, on the series? third installment that follows Mo, the real-life rescue dog, and his puppy pal, Lucky, in Mo Smells Blue.
Exploring the beautiful sights and inviting scents of an island seaside environment, author Margaret Hyde and illustrator Amanda Giacomini have the two dogs exploring and surfing, all the while sniffing out the exhilarating blue scents around them, including the briny blue sea, the clear blue sky and the sweet blue lotion.
The book features a special Press-2-Smell technology that allows readers to smell all the ?blue? aromas Mo discovers in his ?scentsational? journey. Featuring 100-percent pure essential oils from Aura Cacia, Mo Smells Blue is an aromatic treat, releasing the scents of sandalwood, clary sage, sweet orange and lavender to enhance the imagination and reading experience.
A portion of the proceeds from Mo Smells Blue goes to the Best Friends Animal Society to support its initiatives with humane groups across the country ? working towards a time when there are no more homeless pets. The Mo?s Nose series is dedicated to teaching kids about philanthropy, fun and making the planet a better place for all four- and two-legged creatures.
Author Margaret Hyde is an Academy Award-nominated filmmaker, publisher, writer, and photographer living in Southern California. Illustrator Amanda Giacomini is an artist, graphic designer, and yoga teacher living in Northern California. Her dog, Mo, was the inspiration for the book series.
The pure essential oils provided by Aura Cacia for the book series represent just a few of the company?s extensive list of pure, organic aromatherapy products. For 28 years, Aura Cacia has been sourcing and producing the purest essential oils for aromatherapy and skin care.
Mo Smells Blue is available now at Barnes & Noble across the U.S. and online at http://www.BarnesandNoble.com, Amazon.com, MosNose.com, and other select retailers nationwide.
Editors: Copies of the both Mo Smells Blue and Mo Smells Green are available upon request.
Aura Cacia
actually, I know, but I need to correct something someone wrote about them. She is correct in that one should not take more than 5 remedies at the same time, however the exception is the Rescue Remedy. You CAN add other remedies to Bach Flower Remdy. So when I suggest Rescue Remedy and add Walnut for a specific situation, It is correct and smart to do so. The RR is an overall emotional boost/calm and makes the person or animal more receptive to the remedy/remedies chosen for the specific situation. The Encyclopedia of Bach Flower Therapy by Mechthild Scheffer
Rescue Remedy was first created by Dr. Edward Bach as part of the flower essence research he performed before his death in 1936. Dr. Bach discovered the healing properties of 38 plants in this time, as well as studied how to use these flower essences (which now bear his name) to heal physical, emotional and spiritual illnesses. One of his insights was that a combination of essences often proved more effective than one essence alone. This is a marked deviation from the homeopathic principles of his earlier training, since it is practically a law that only one homeopathic remedy should be taken at a time. Of the many combinations he experimented with, one mixture of five separate essences seemed the most useful. This combination (Star of Bethlehem, Rock Rose, Impatiens, Cherry Plum, and Clematis) became known as Rescue Remedy, because of its powerful restorative properties.
The five essences in Rescue Remedy have something in common. Each of these flowers describes one common way that people check out of the here-and-now when under stress. In a more positive vein, these flowers also describe the strengths (what Bach called "spiritual virtues") needed to constructively handle the stress.
Certain essences (e.g., Dandelion, Snapdragon, Ragweed) are used for more physical symptoms. Take the remedy to counteract the symptoms when you first notice them. Repeated doses may be needed in very acute situations, up to a dose every 15 minutes. Stop when the symptoms begin to subside and let your body handle it. Repeat only when symptoms appear, again.
For instance, the Clematis person is dreamy, lost in their thoughts, dreaming of a perfect future. A Clematis person responds to injury by "spacing out" or losing contact with the physical body, in extreme cases, losing consciousness completely.
Rock Rose

The Impatiens

Cherry Plum

Star of Bethlehem

Rescue Remedy is good for soothing over all of life's "boo-boos," whether big or small, physical or emotional. It helps adults deal with stress and overwhelm. It's excellent for children, whether they are suffering from a scraped up knee or a frightening nightmare. It also works well with animals, who may need help adjusting to new surroundings or who require support during time of illness or trauma from veterinary procedures. It's also extremely useful for garden and house plants undergoing any "change in life" event, such as planting seeds, transplanting to a new pot, pruning or harvesting. The energy of a flower essence is a natural match for the subtle energy fields surrounding a plant.

reacts to stress by "numbing out." By removing their awareness from the pain, they avoid dealing with it at all. This, unfortunately, means the pain will be waiting for them at some later time. When you take Rescue Remedy, the five flowers slam shut the doors to these escape routes. You receive a little dose of staying power, courage, patience, confidence, and focus that enables the life force to stay engaged with the body, so it can attend to the healing process. The damage must still be repaired, but at least you are calmly present and focused on the work. is for a peculiar kind of panic that issues from within. When faced with emotional tensions or the growth of strange, new potentials, the person can freeze up or resist what they see. They feel a loss of control, that they may do something they'll regret later, even that they are going crazy. Feeling powerless and out of control can make even simple situations very threatening and frightening. person becomes tense and irritable, as though annoyed that anything could stand between them and good health. is for fear and panic, a feeling of being overwhelmed and unable to cope with the situation.
I am involved with a web-site that provides topical information about Flower Essences. Ever wondered what your Celtic Tree Astrology Sign is? Also, go here if you want some lovely (and free!) Screensavers of Happy Animals, Beautiful Flowers, etc.

My hobbies/pastimes/life include Astrology, Music, Reading, Sport, Cycling, Chocolate, My cat and a love for animals…our equals.

Julie van Wart of the Body Rescue Zone in Berlin talks us through the wonders of Reiki.

Tania Hannan and Terri Trespicio discussed Rescue Remedy, Rescue Sleep, and Bach Flower Remedies on Martha Stewart radio's "Whole Living" show (Sirius 112).

Bach Rescue Remedies and how flowers can help you de-stress and feel better.