Welcome to The Majickal Garden. A mystical cyber garden for anyone traveling the path, who is interested in enhancing their spiritual growth. There is an acceptance here to new ideas as well as others beliefs. We are all students in the light of life. The Universal ways have gifted us wonderful tools for our soul's evolvement and discovering them is a pleasure found in The Majickal Garden.
Thank you for taking the time to spend some of your precious time here. We hope you can find something of interest to take with you on your own path of spiritual journey.
Peace and Light…Jasmine – Webmistress
Humankind has not woven the web of life.
We are but one thread within it.
Whatever we do to the web, we do to ourselves.
All things are bound together.
All things connect.
Chief Seattle
( If an item appears on this website that should not be posted, please let us know and we will be happy to remove it or add credit to its authenticated origin.)

Late Autumn 2014 Update
Written by Jasmine
Here we are counting down the weeks before Christmas and I am just doing my Fall update. Where has the time gone! I enjoyed a beautiful sunny Indian Summer and the garden lasted well beyond usual. My goal of nurturing my pale green thumb was met with pleasing results. The seeds I started in the garage in April flourished once planted in the ground, tubs and hanging baskets much to my surprised delight. I felt such a feeling of accomplishment that "I" could actually do this and the satisfaction exceeded years of buying them and keeping them alive! I bonded with these wee beauties and they taught me tips to alter for next year.
My back yard is covered in small red rock with a few beds. I use plenty of containers. Mid-summer while weeding my "rock lawn" I realized that some of the "weeds" might want to be allowed to grow…just a hunch I had, never seeing them before. I had let the chore go for a good month so some had taken quite a foothold and were very healthy. They were centered around the proximity of the bird bath and looked different from the normal weeds that get yanked out.
They grew quickly and I did not have to wait long before I was rewarded when they showed color. Extra interesting to me is the area they were located in usually did not catch my target for watering and at an especially dry part of summer until they caught my attention. They were very tenacious and appeared to want to be there. One type flowered into what looked like purple wild petunias, if there is such a thing! The other was purple lobelia, another wonder to me.
Not long after they bloomed; one sunny morning while garden tending, I had a sudden thought of my beloved Grandma, who watches over me from the other side, and was overwhelmed with love busting from my heart. Quick heartfelt tears stung my eyes as I remembered each summer she always had petunias and draping lobelia together in her baskets. It is my knowing that she sent them to me via the birds where nature takes its course! I had a sudden overwhelming feeling of love intertwined with feeling that I had been granted a precious gift from her in the form of these particularly specific "wild" flowers in MY backyard! I had a pot ready with soil that I never got around to planting in and within some weeks it was lush with the petunias.
I know from many ways she is around me when I invoke her from the heart in certain situations. From birth my grandparents were always an active part of my life and later my own children's.  As busy as they were with their own lives, they always made me feel special as they spoiled me a little and taught me much with subtle guidance at the same time as I was growing up. I feel a distinct blessing in knowing she found a way to touch me even closer on my side of the veil! She was always supportive of me with her unconditional love. I now know she did not always approve or understand some of my choices made but she trusted me and never seemed to express negativity. I know her daughter, my mom, raised me the same way. They knew I had to find my own way and at the same time; at the ready to talk to me when I needed their input.
My Grandma is with my Grandpa as well as my Mom. I miss them dearly. I have so many questions I never asked when I had the chance. However, the more I mature in age and experiences the more I feel their loving support. It does not matter I don't have all the historical family facts…they are with me now as I continue down my own path.
When I am in the garage on a creative mission looking for something to make happen out of my head fumbling around for that certain component to appear; my carpenter Grandpa smiles silently over my shoulder guiding me. And when it suddenly shows up with a "hey presto" moment I can smile gratefully back at him.
My mom guides me still with her strong ironic humor wrapped in her own life experiences where emotions weighed heavy. When I am scared, confused, or in tears I can feel her supportive presence with her empathetic concerned loving knowing smile. She felt them all in her time here and that visual of her loving face packs a most effective punch in the gut to buck up and go forward.
The holidays are ever challenging for me. I am blessed with so many wonderful majickal memories via the closeness my family shared packed into decades. The balance lies in keeping them with me and endeavoring to create new ones in my life now.
I look forward to Spring in the hopes I might be blessed once again with "wild" petunias and lobelia! The delightful blessings of miracles in this lifetime cannot be expected nor taken for granted, however large or small. Living in the mindfulness presence of the moment, by not allowing the mind to wander to yesterday, tomorrow, or what might be done later allows openness to what might be experienced or lost for lack of "being there". If I had done a mindless clean sweep of my backyard I never would have discovered what I did and never known what I could easily have missed! I was open and therefore ready for what might come to be.
I hope your holidays are sprinkled with sparkles of special moments all season long!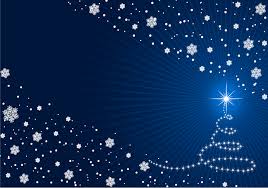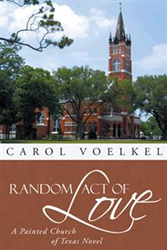 RICHMOND, Texas (PRWEB) February 28, 2015
Author Carol Voelkel believes God has a plan for everyone, whether or not people decide to follow it. This belief provides the backbone for her new book, Random Act of Love: A Painted Church of Texas Novel (published by iUniverse).
Voelkels book is a Christian romance about childhood friends who rediscover each other while growing stronger in their faith. The novel highlights Saints Cyril and Methodius Church, one of the Painted Churches of Texas, located in Shiner. Voelkel weaves scenes of the church into the novel in such a way as to make readers feel they are sitting in the pew alongside the characters.
I truly believe that nothing that happens to any of us is random, Voelkel says. God directs our steps and helps to guide us through our lives. I sought out to paint a warm, welcoming picture of the Shiner, Texas, community and to honor the beauty of the church.
Voelkel wrote and published this novel with one specific goal in mind: to raise money for the church. Father Kirby Hlavaty, pastor at Saints Cyril and Methodius, has read and blessed the novel and has participated in several fundraising events with Voelkel.
Random Act of Love

By Carol Voelkel

Hardcover | 6 x 9 in | 256 pages | ISBN 9781491728109

Softcover | 6 x 9 in | 256 pages | ISBN 9781491728093

E-Book | 256 pages | ISBN 9781491728116

Available at Amazon and Barnes & Noble
About the Author

Carol Voelkel, a proud native Texan, has always had a love of writing, but ever since she and her husband purchased a farm in a quaint Texas community, her characters are leaping off the pages. Voelkels primary residence is in Richmond, Texas, where she is a member of Romance Writers of America and American Christian Fiction Writers.
iUniverse, an Author Solutions, LLC, self-publishing imprint, is the leading book marketing, editorial services, and supported self-publishing provider. iUniverse has a strategic alliance with Indigo Books & Music, Inc. in Canada, and titles accepted into the iUniverse Rising Star program are featured in a special collection on BarnesandNoble.com. iUniverse recognizes excellence in book publishing through the Star, Readers Choice, Rising Star and Editors Choice designationsself-publishings only such awards program. Headquartered in Bloomington, Indiana, iUniverse also operates offices in Indianapolis. For more information or to publish a book, please visit iuniverse.com or call 1-800-AUTHORS. For the latest, follow @iuniversebooks on Twitter.

###

Beyond the Ashes – Living in the Moment
from Living In the Moment
Price: USD 0.99
View Details about Beyond the Ashes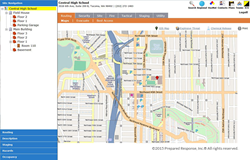 Albany, NY (PRWEB) February 25, 2015
The New York State Sheriffs Association (NYSSA) is working with Sheriffs throughout New York State to coordinate the deployment of a robust, standardized and affordable emergency response system, to help communities better prepare and respond to emergencies using the latest in digital technology. NYSSA has partnered with Prepared Response, Inc., based in Kirkland, WA, to provide the Rapid Responder

Christian Meditation Music – Mindfulness
from Christian Meditation
Price: USD 0.99
View Details about Christian Meditation Music

Sounds of Nature White Noise for Mindfulness Meditation and Relaxation – Gentle Rain Sound with Relaxing Piano Music for Sleeping Babies to Relieve Insomnia
from Nature Sounds Relaxation and Tibetan Chakra Meditation – Music for Relaxation Meditation, Deep Sleep, Studying, Healing Massage, Spa, Sound Therapy, Chakra Balancing, Baby Sleep and Yoga
Price: USD 0.99
View Details about Sounds of Nature White Noise for Mindfulness Meditation and Relaxation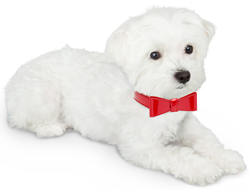 (PRWEB) February 17, 2015
The heart wants what the heart wants. And for Valentines Day this year, a pet or a girls heart wouldnt mind a few treats and treasures from LazyBonezz. The fashion-forward brand recently launched a collection of 18K gold pet charms and necklaces that are priced under $ 50. Designed for pets and owners alike, these pretty little tokens of affection make gifting very easy and affordable this holiday.
In addition to their jewelry line, LazyBonezz has other fun gifts for any pet this holiday – a vast assortment of stylish red dog collars and leashes, plus great cat and dog toys that wont break the bank. Their latest dog toy offerings include a gift set that of three colorful rubber squeaky balls for $ 14, and a collection of luxurious leather dog toys available in a frisbee and dog bone.
The LazyBonezz line is all runway-inspired and meant to keep pet and pet owners effortlessly chic, even down to their cool toys.
President of LazyBonezz, Lorraine Gold commented, Everyone is always looking for the perfect Valentines Day gift, LazyBonezz makes this very easy for anyone.
LazyBonezz.com recently re-launched its e-commerce site – unveiling an array of luxury pet products from the brands signature pet bunk beds to their new pet toys, pet bowls, pet storage and stylish dog collars and leashes.
Find More Mindfulness Press Releases