Welcome to The Majickal Garden. A mystical cyber garden for anyone traveling the path, who is interested in enhancing their spiritual growth. There is an acceptance here to new ideas as well as others beliefs. We are all students in the light of life. The Universal ways have gifted us wonderful tools for our soul's evolvement and discovering them is a pleasure found in The Majickal Garden.
Thank you for taking the time to spend some of your precious time here. We hope you can find something of interest to take with you on your own path of spiritual journey.
Peace and Light…Jasmine – Webmistress
Humankind has not woven the web of life.
We are but one thread within it.
Whatever we do to the web, we do to ourselves.
All things are bound together.
All things connect.
Chief Seattle
( Should an item appear on this website that should not be posted, please let us know and we will be happy to remove it or add credit to its authenticated origin.)

Winter Update 2014
Clearance On Dark Emotions
Written by Jasmine
(Webmistress The Majickal Garden)
Happy New Year Warm Greetings. : )
Another holiday and a whole year are behind us. With all the rapid changes happening all around us; some good and others are very disturbing, it's an especially crucial time for us to focus on our soul health. Living each day with willful awareness and remaining in the full realization of the moment at the center of attention. It's a good time to introduce yourself to meditation to calm the mind, focus and clear it of the incessant chatter that over shadows intuitive knowing and thinking or practicing on a more regular basis.
Meditation promotes spiritual self-enlightenment as well as a stress relieving and relaxation promoting practice. With relaxation comes a quieter peaceful mind where memories, emotions or worry are set aside and the mind, body and soul can recharge. The light inside can shine brighter. By starting with ourselves we are better able to share the light with those around us.
Once we recognize the option we share to mindfully quiet the chatter it is easier to introduce this state outside of meditation.
This holiday season found me in a calm peaceful repose. In the past years, with the arrival of Thanksgiving and the first Christmas song on the radio, there was a cold dark bubble of dread and coldness in my heart for the month to come. A childhood gone where the holidays were about being together, love, good food and happy times. The second stage of my life I was able to share the same with the raising of my own children. Entertaining for my extended family was so much fun and though it was small (comparatively) but there were times when there was a count of 20 for the main meal! The third stage of my life is no less gratifying however most of my family has passed to the other side and the few others are far away. I am the matriarch now and it's not a title I relish but accepting what is. I am comforted by knowing they still remain with me strong in my heart. Every once in a while I get a much cherished visit!
The past year I have been practicing living willfully in the moment. Meditation has taught me to clear my mind of the "incessant chatter" that I always thought was healthy. It's the voice that says "you can't do that" or "you're not thin enough or pretty enough." It's the thing that takes you back to memories that are better left there, because it's over. But once you are there the mind drags you over it all again with emotions intact. It says "I should have" or "I wish I had" or "he/she should not have done that." It looks to the future with worry about what might happen and can spend plenty of time doing that.
We need to think in order to plan, learn and function in our everyday lives. The rest of it is mostly unnecessary. I have been able to let the emotions of the past go…regret, guilt, and loss. My reward appeared during the holidays when Thanksgiving arrived and I was able to freely enjoy the loving, accepting company I was in. Still not convinced…I awaited the dreaded holiday jingle that I knew was coming and only had to wait until the next day when I started my car. "It's Beginning To Look A Lot Like Christmas" blasted from the speakers because of my jammin' loudly to a classic Bob Seger song the day before! I turned it down and took stock of my feelings. I felt neutral and open. The darkness inside was gone. A couple blocks later and there might even have been a slight pleasure in the popular classic song. When baking time rolled around…I was right on top of it with enthusiasm and loving spirit. I even expanded my usual list of recipients. With my first batch of secret recipe Chocolate Chip Cookies : ) I actually experienced a feeling of Joy for the season.
My beloved husband has been very patient with me over the years and has given me plenty of room and understanding for my needs during the holiday; whatever mood it might find me in. With the loss of the dark bubble there was a space waiting to be filled. It's been replaced by thankfulness for him in my life, the family I have in my life now and friends that are family to me. It's helped me to focus on that "in the now" without the selfish emotions left over from a past long gone.
Life is good. Today was an unseasonal mild 54 degrees and I took a stroll around my sleeping garden warmed by a winter sun. I could feel the energy of life below the ground beginning to think about Spring. My mind became active with thoughts of new plans and looking forward to when I can begin preparations for them. On this day I settled for breathing the fresh air while I gave the patio a sweep from the small piles of tree needles and dirt from the busy squirrel pawed out of my pots. A few chickadees that live in the berry bushes behind our fence waited patiently on the fence for me to finish so they could have their splash in the fresh bath that awaited them.
The future begins in the now. And right now is all we have control over. : )
Keep safe, warm and happy on the Path of Light!
Lessons from Madame Chic http://amzn.to/S47P4N Author website: http://www.jenniferlscott.com Facebook http://www.facebook.com/JenniferLScot… Twitter: http:…
Video Rating: 0 / 5
Some cool The Untethered Soul images:
Love this reminder, from The Untethered Soul


Image by Lost A Sock
Author Michael Singer says spiritual growth can begin by silencing the negative thoughts in our minds. Watch as Michael shares a spiritual solution to use to…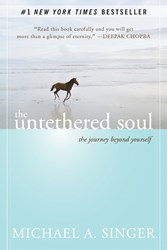 Oakland, CA (PRWEB) August 26, 2013
At the beginning of 2012, a New York Times bestseller was a distant dream for New Harbinger Publications. Midway through the year, it became a reality, due to The Untethered Soul: A Journey Beyond Yourself. The book, originally published in 2007, surged after it and its author, Michael Singer, was featured on the Oprah Winfrey Network (OWN)s hit show, Super Soul Sunday. Since that airing, it has been on the Best Sellers list for 30 weeks and counting. When Oprah featured the book on her Good Morning America episode in October 2012, the book catapulted to #1 for the Paperback Advice and Miscellaneous category. Almost a year later, after the Super Soul Sunday episode featuring Michael Singer re-aired, The Untethered Soul has once again shot up to #1 for the week of September 1, 2013.
About The Untethered Soul

In The Untethered Soul: The Journey Beyond Yourself, author Michael Singer explores the question of who we are and arrives at the conclusion that our identity is to be found in our consciousness the ability to observe ourselves and the world around us. The Untethered Soul taps into meditation and mindfulness traditions and shows how developing consciousness can enable all of us to dwell in the present moment and let go of painful thoughts and memories that keep us from achieving happiness and self-realization.

susun weed – Ask Herbal Health Expert Susun Weed
from Ask Herbal Health Expert Susun Weed
Price: USD 0
View Details about susun weed
There is an increase in interest and funding for Complementary and Alternative Medicine. PBS interviews various leaders in the field including Dr. Brian Sheen.
Video Rating: 5 / 5